Top Notch Osteopaths Parnell | Massey West Auckland
Our clinical practitioners offer personalised natural pain relief, effective treatment and tailored advice for improved wellbeing.
We want you to get back to moving and feeling better – book in with our osteopaths at our Massey or Parnell Clinic.
What does an Osteopath do?
Our bodies vary from person to person, so to will your osteopathic treatment.
When you visit our Parnell or Massey clinic, your osteopath will assess the mobility of problem areas, take a detailed case history, and form a diagnosis to work out the best treatment and management plan for your needs.
Osteopaths can treat a lot of issues. They focus on how your bones, joints, muscles, nerves, circulatory system, and internal organs function as a whole body unit.
We will educate and support you on your personal journey to a pain-free life. We encourage you to exercise well, adapt your posture, movement and activities to help maintain the problem at an acceptable level. Encouraging you to be empowered with your own health and recovery is paramount.
Osteopaths make their choice of treatment depending on what is going on for you, the condition you have, and may give advice on posture, exercises, lifting procedures, nutrition etc. They may also send off for x-rays or for further investigations if applicable."
Why would you see an osteopath?
Our osteopathy treatment is most commonly sought after for musculoskeletal problems. Most people see us for help with conditions that affect muscle, nerve pain and joint issues such as:
This is by no means an exhaustive list of conditions that are seen at Top Notch. ​If you experience any of the above conditions or have questions please get in touch with Top Notch Bodyworks to see if we can assist you.
Meet our experienced Osteopaths
JUST CALL US BODY DETECTIVES.
We're thorough, precise and look for the root cause of conditions
We're ACC Registered
We're Southern Cross Affiliates
Our Osteopaths are based in the heart of Massey, West Auckland and Parnell.
Proudly serving our clients throughout Auckland, New Zealand.
What is the difference between osteopathy and physiotherapy?
"Our whole body approach is both evidence-based and suitable for your health goals"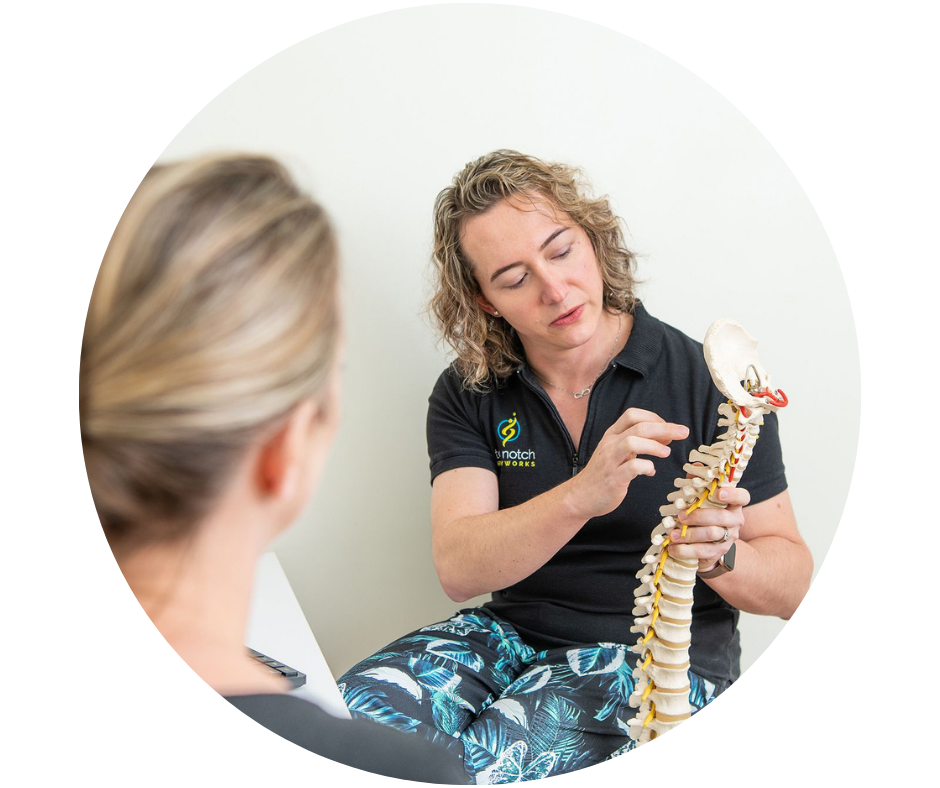 Osteopaths, like physiotherapy, are primary health practitioners. Osteopathy approaches your healthcare by recognising the link between how your body presents (the structure) and how you move (the function). Physiotherapy predominantly uses exercise-based rehabilitation to improve your strength, movement and function. We work very closely with local physiotherapists.
At Top Notch Bodyworks – we provide natural relief through hands-on therapy so you can move and feel better. We do this by providing tailored plans specific to you and your goals.
We have years of experience delivering services to the community and we are proud to have a network of incredible healthcare practitioners who work collectively to support each other and our patients
Do you have restrictions with joint movements, find it hard to stretch, stiff or get down into positions? Is it painful?"
Do you have areas of tension and tightness in the muscles?"
These are some of the things our experienced practitioners will examine and evaluate during your consultation.
We have a lot of hands-on techniques in our tool box – deep soft tissue, therapeutic massage, mobilisation, articulation and stretching.
Not anyone can be an osteopath. In New Zealand, our osteopaths are government registered practitioners who complete a minimum of five years of accredited training in anatomy, physiology, pathology, general healthcare diagnosis and osteopathic techniques.
With many of our practitioners going on to complete further studies in Rehabilitation, Pain Science, Pediatrics, Women's and Men's Health, and Ergonomics.
At Top Notch Bodyworks, we're proud of the excellent reputation that our clinic maintains amongst the local community.
​When you think osteopathy in Auckland, think Top Notch Bodyworks as your first choice in quality healthcare services.
Frequently Asked Questions
osteopathy, parnell, west auckland, osteopath near me, west osteopath, osteopath auckland